Intro: It's Monday Coffee Blogs! In the fourth installment of this series, we are talking about job retention rates. Obviously, we were feeling pretty patriotic with the 4th of July just two days away so we did what any star-spangled coffee enthusiast would do; we ordered iced Americanos!
Coffee Shop: Roots Brew Shop
Drink: Iced Americano
Our Review: When the forecast can be described as "hot enough to fry an egg on the sidewalk," you know your caffeine boost is gonna need to be refreshing, and since this week we are bracing for a hotter than hot double heat wave we gladly accepted of iced brews. While there's no denying we were half melted from the heat, we had to visit Roots Brew Shop since it's just down the street from our office! As we sipped our iced Americanos we felt every bit as patriotic as a bald eagle, George Washington, fireworks going off at all hours of the night for days leading up to and after the 4th of July, and a Turducken (a turkey stuffed with a duck stuffed with a chicken…ask Paula Deen if you're struggling to get your head around this concept).
Job Numbers: This week we wanted to take a closer look at the retention rate. Being in a job seeker's market means it is more important than ever to make sure your best employees are satisfied and want to stay with your organization. We researched the "separation rate" from the BLS. The separation rate includes all employees leaving their job willingly and unwillingly.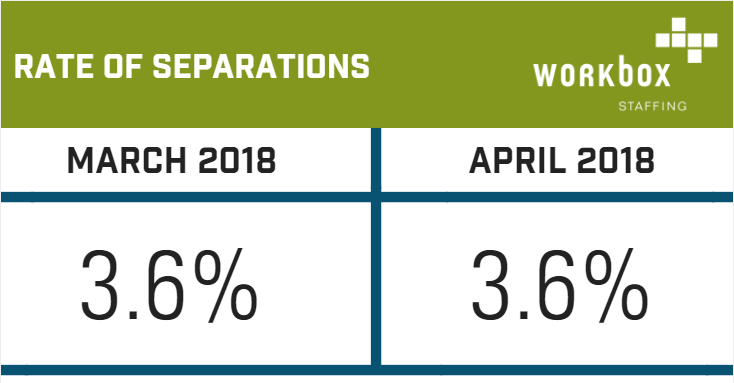 The rates are very similar month over month, and these rates are also very close to the national unemployment rate for April 2018 (3.9%) meaning job seekers are having a relatively easy time finding work after unemployment. They say good talent is hard to find, make sure you hang on to your good employees because they have choices. We've prepared some things for you to consider.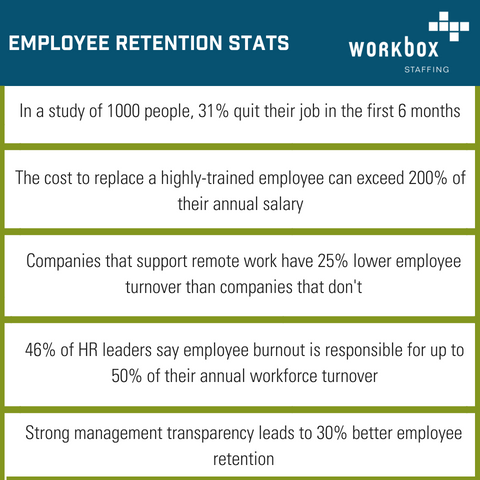 We've come up with a list of the top five ways to improve employee retention in your organization.
Be flexible – remember that your employees have lives outside of their jobs so sometimes they may need to come in late, leave early, or work from home if applicable.< /li>
Pay well – offering competitive wages can be a challenge if you can't provide higher pay try offering unique benefits like paid vacation time or provide complimentary snacks/beverages for your employees.< /li>
Be open and transparent – respectful, open communication between employees and management is a great way to foster community and shared purpose. Consider implementing an "open door" policy in your organization.< /li>
Provide opportunities for personal development – offering your employees opportunities to reach their individual career goals by providing training, sending them to a related conference of giving tuition assistance to further their education.< /li>
Don't hold back on praise and recognition – we all like to be appreciated for a job well done, make sure your employees know what they do matters.< /li>
If you're struggling with employee retention, we can help! Here a Workbox Staffing we work tirelessly to place qualified candidates in the roles you need filled. We put our employees through an exhaustive evaluation process including testing, background checks, employment verification, drug screenings, and e-verify authorization. That goes for every employee, every time, without a doubt.
We'd love to know what ideas you've tried to improve employee retention at your organization, tell us in the comments below!