Finding the right pair of shoes can make all the difference in your life. When your job involves staying on your feet most of the day, the right pair of shoes is crucial to keep your body comfortable and healthy. Without enough support, your shoes can leave your feet and legs aching with potential long-term issues. Wearing the right shoes can prevent problems not only in the heels, ankles, and arches but also in the hips, knees, and back.
If you operate a warehouse, equipping your team with the proper footwear is also essential to employee safety. Fortunately, there are options available that will provide both comfort and protection. Here are four types of shoes your warehouse should be investing in:
1. Timberland PRO Men's Titan Safety Toe Work Oxford
Work boots are the ordinary warehouse footwear, but this oxford from Timberland is bringing a whole new level of professionalism to safety. This is the ideal warehouse shoe for someone who needs to be an active presence both in and out of the warehouse. It provides comfort, style, and safety.
2. Timberland PRO Men's Powertrain Mid Alloy-Toe ESD Industrial Work Boot
If you want style and protection in a work boot capacity, this is the choice for you. It looks like a regular shoe while providing the same amount of safety as other options. A protective alloy toe cap protects toes and prevents shock. The breathable mesh upper portion and cement construction create a boot that feels more flexible and takes less time to break in.
3. Caterpillar Men's 2nd Shift 6" Steel Toe Boot
This boot takes safety and comfort to new levels. It's meant to push you into overtime without you feeling the effect, and it delivers. The 2nd Shift Steel Toe Boot protects your toes against crushing forces, and the rubber outsole is electrical hazard and slip-resistant.
4. KEEN Utility Men's Pittsburgh Steel Toe Work Boot
This shoe is as tough as the city it's named for. This all-around work boot provides all the standard safety features, like oil and slip-resistant soles and contour heel locks, while offering breathable materials to control odors and keep your foot comfortable.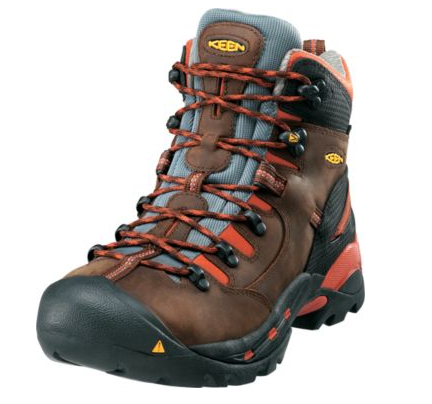 < h3>Find employees to fill those shoes< /h3>
The best pair of shoes for your warehouse won't do you any good without the right person to wear them. At Workbox Staffing, we specialize in hiring for a variety of industries, including placements in manufacturing and light industrial. You have big shoes to fill, and our staffing specialists are here to help.